E-commerce is growing. At a staggering rate.
With solution such as drop shiping completely revolutionizing how we sell, merchants need a good platform to open their online stores.
However, for most people, though they might have in-depth knowledge of their products, not many have enough experience in programming, coding or web development.
In such a scenario, you have some options that make it (a bit) easy for you. Right from "plugins" like Woocommerce to custom shopping cart solutions like Magento or Open Cart.
Still, they can get quite complicated, needing a developer in your team.
However, if you truly wish something that needs ZERO technical knowledge, nothing comes close to the simplicity, ease, and affordability of Shopify.
Let's quickly review Shopify's service in this blog post today.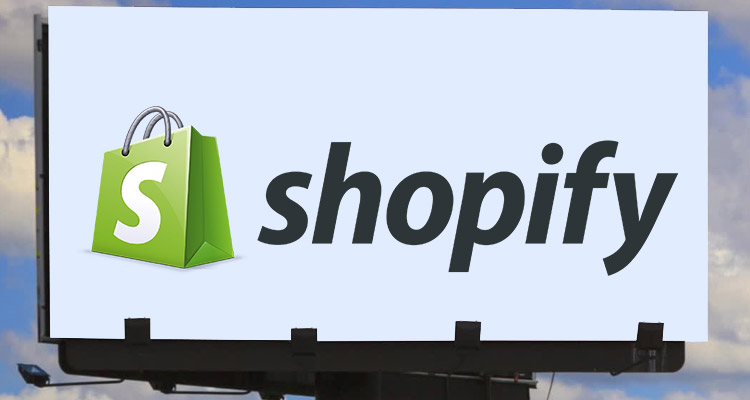 WHAT IS SHOPIFY.COM?
Shopify is a highly effective eCommerce website builder. It provides a platform for merchants to design, develop, market and sell various types of goods and products to consumers all around the world.
Shopify offers complete website building templates with 100's of templates that are pre-made for you to use them as they are.
To use Shopify, merchants have to sign up to their website (which is a very simple process).
Also, Shopify offers various deals, such as a 14-day free trial for new users that helps the merchants to understand if it is right for them and their business.
Plus, you can also customize the templates offered on their platform with images, videos, logos, text etc. to complement your brand and product's image.
All you need to do is… choose a theme! That's it!
And with that, your business has been set-up! You can sell your products right away with the platform's built-in shopping carts.
After this trial phase, the merchants can access their Shopify stores at a starting price of $29 per month.
Here's the detailed pricing plan…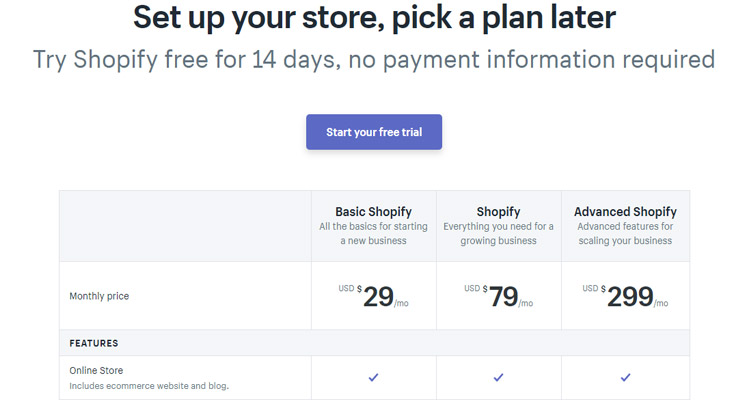 Shopify has several great features that make it a preferred platform for the merchants to create their online store.
SHOPIFY PROS AND BENEFITS
​Some of the ​extra benefits that Shopify offers are:
​Shopify also offers various tools to the merchants that help them in various functions such as:
Along with these benefits and tools, yet another another amazing thing they do is, they educate you on all things e-commerce.
They call it the free business lessons!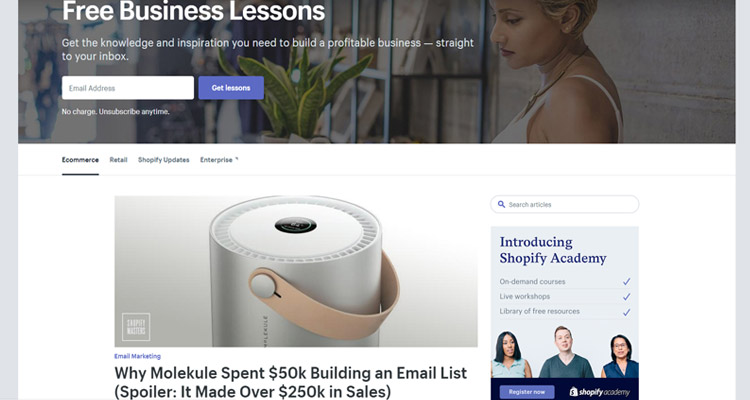 But like any other online platform, Shopify also has a few cons linked to it. You must know them before choosing the platform for your e-commerce store.
SHOPIFY CONS (FEW, BUT YOU MUST KNOW ABOUT THEM)
All in all, what started as a venue to sell snowboarding goods, Shopify has come a long way.
It is now one of the most popular e-commerce web-builders in the market and hence, is a perfect destination for you if you're looking for a simple e-commerce solution.
And don't forget, you also get the flexibility to grow your business with complete pricing transparency, on-boarding help, and awesome support with them.
Start your Shopify trial today by clicking on the button below.