It does not require deep technical expertise in the marketing field to understand that social media is a vital marketing platform. It can turn any SMB into a large business organization. You need a social media automation tool when it comes to promoting the brand and products on the world's leading social networking sites. A successful social media marketing campaign can help you in generating huge traffic on your drop shipping business website. More traffic means more sales. The Social Rabbit Plugin has received a huge response from users in recent years. Is this plugin a perfect social media marketing solution for your drop shipping business or you should search for some other options? Find the answer in this Social Rabbit Plugin Review.
WHAT MAKES SOCIAL RABBIT PLUGIN USEFUL FOR YOUR ECOMMERCE BUSINESS?
When it comes to drawing organic traffic from social networking sites, the Social Rabbit Plugin is a reliable solution. This WordPress plugin enables auto-promotion and auto-running of a social media campaign on a number of popular social networking platforms that include Facebook, Twitter, Pinterest, and Instagram. This plugin automatically generates and publishes human-like social media posts. It uses your e-retail site's web content to publish social networking posts.
This plugin keeps your business active on all the leading social networking sites. It will work 24-7 for your business and elevates the chances of grabbing new prospects from the targeted social media platforms. This plugin will not only use your business's social media timelines but also hops all around the social media pages. It finds the communities related to your business, places comments to draw the attention of new prospects, and interacts with your target audience. To keep it simple, the Social Rabbit Plugin follows links, and comments on the posts created by the targeted users. It offers a great boost to your social conversions and you receive a huge amount of traffic on your e-retail site.
WHY IS SOCIAL RABBIT PLUGIN SO ESSENTIAL FOR AN ECOMMERCE STARTUP?
The Social Rabbit Plugin was developed specifically for WordPress sites. It was designed to offer an effective social media promotion campaign throughout the leading social networking sites. You can call it an automated promotion tool that manages your business's social networking accounts. It will take your business through all the targeted social media platforms. You can target the prospects connected to your business via Facebook, Pinterest, Instagram, and Twitter. This plugin promises to offer stable organic traffic from targeted social networking sites. The users agree that this plugin works exceptionally well and therefore you should also try it to promote your eCommerce store across the targeted region. You can also make your eCommerce Store successful by using Alidropship Plugin.
HOW DOES THE SOCIAL RABBIT PLUGIN WORK?
You get two promoter tools with the Social Rabbit plugin that manages your Facebook and Instagram accounts. These tools would be Facebook liker robots and Instagram follower robots. You will have to explore these two social networking sites and choose the niche-related accounts in order to promote your business via Social Rabbit on these platforms. Once you have found the niche-related communities and accounts on Facebook and Instagram, copy their links and add those links to the plugin. This is how the plugin will recognize the targeted pages on social networking sites to promote your business.
WHAT DOES THIS PLUGIN DO THAT OTHERS DON'T?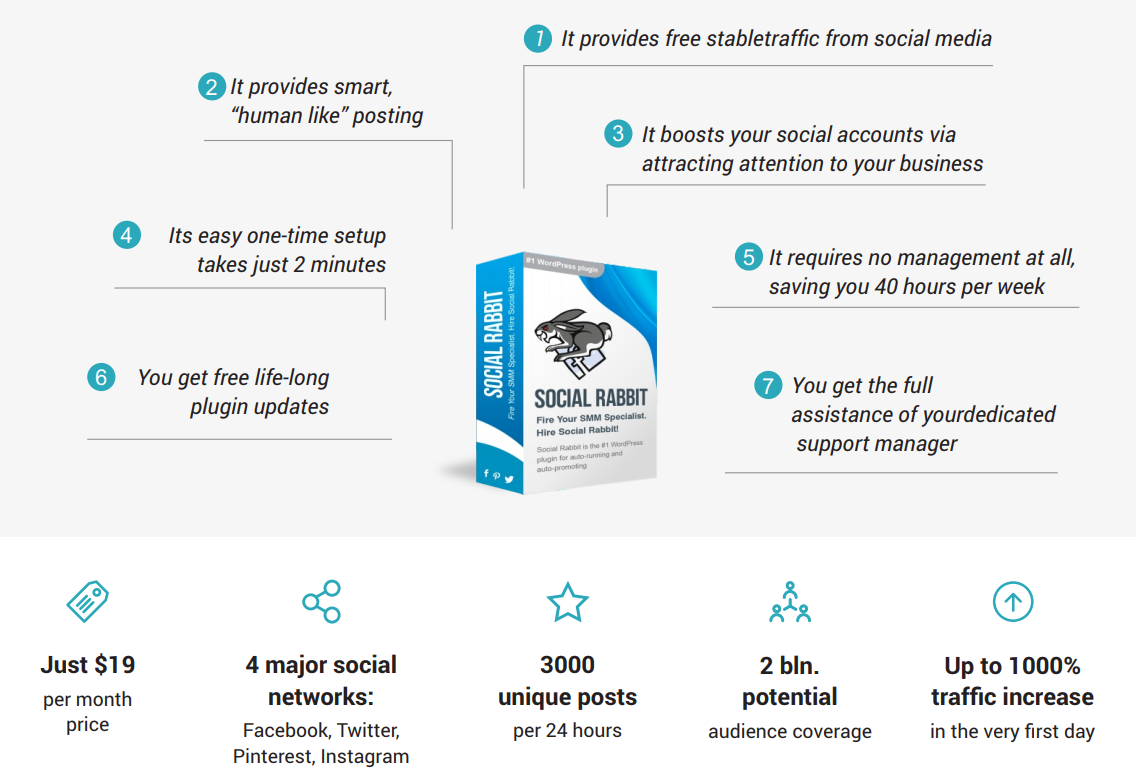 NOTABLE FEATURES OF SOCIAL RABBIT PLUGIN:
Automated promotion on the most widely used social networking sites.
Ensuring a constant flow of organic traffic from social networking sites.
You will save a lot of time and money.
Uses a prepared image base to publish the photos on behalf of your business.
Easy to setup and works 24-7.
Includes hashtags, descriptions, and links automatically in each comment and post.
A dedicated support manager to help you in using this tool.
Lifelong free updates for this plugin.
PROS AND CONS:
As you are checking in this Social Rabbit review, this plugin is great but it also has some flaws. Check the pros and cons to reveal both sides of this tool.
Pros:
It makes social media marketing a convenient task for any user. It will use the content created by the promoter, schedule it, and then use that content to promote your business.
When you do not have time to interact with the target audience, this plugin works on your behalf and reach more followers to entertain them.
It recognizes the time when a huge number of followers are active to promote your products and brand.
Cons:
A few cons of this plugin include bad timing and poor scheduling of sharing content on social media sites.
FINAL THOUGHTS:
After reading Social Rabbit Plugin Review with all the features and a few drawbacks, it is clear that Social Rabbit is a reliable social media marketing tool for you when you want to promote your eCommerce store. So, I recommend you to use this plugin to automate your social media promotion campaign. You can Try Social Rabbit Plugin Here.