Technology is taking the world by a storm today and has pushed it into a digital shift-over. Whether it's the healthcare sector, manufacturing industry, or the corporate world, everything is under the strong influence of technology. Digital marketing is replacing conventional marketing strategies; brick-and-mortar retail stores are being replaced by online stores.

Technology is adding convenience to our lives in ways that we never thought were possible. We can sit in the comfort of our homes and shop from our favorite stores, and we can order our food just with a single click. These are the conveniences we enjoy today, and we have the technology to thank! Digitalization is the most exceptional product of technology, and there is no denying there.
Digitalization has its most considerable influence on the corporate sector. From marketing to managing cross-functional teams, everything has become simple and efficient. It is due to the wide acceptance of digitalization that the internet is flooding with e-commerce websites. People are working towards building an e-commerce business today!
Even though websites like Shopify are making it easy to set up an e-commerce business and tools such as eComHunt are making it simple to generate huge profits!
ECOMHUNT REVIEW
A lot of people who wish to start an e-commerce business struggle to find the perfect product to sell. Choosing a profitable product is one of the essential factors that determine if an e-commerce business will float in the success or sink in the loss.
The ability to drive target traffic to an e-commerce store along with a profitable product is the factor that takes online businesses to ultimate success. Businesses need to put in a lot of time, effort, and investments in order to generate high profits. Performing extensive e-commerce SEO, social media marketing, and investing in paid advertising are some of the ways an e-commerce business can generate profit.
What if there was a way you did not have to put in such high monetary and non-monetary efforts to generate profit from your e-commerce store? Well, there is one tool that can help businesses excel in such a competitive environment, and that is a product searching tool.
Today, hundreds of product searching tools are available in the market, and it is making it difficult for businesses to choose the best option. EComHunt is a fantastic product search tool that is helping businesses drive revenue and generate amazing benefits. It is assisting people in establishing successful dropshipping businesses.
MORDECHAI ARBA – FOUNDER OF ECOMHUNT
It is essential to talk about the man behind this product search tool before we get into the details of the EComHunt review.
EComHunt has been founded by Mordechai Arba, who himself is an e-commerce entrepreneur. He is running multiple e-commerce stores today, and each of these stores is generating massive profits. According to the founder of EComHunt, the key to extracting profit from an e-commerce business is to choose a high-selling and popular product.
He applies his own strategy in growing his business, and it is working wonders for him. He has the skills to identify the bestselling products and even has the expertise to drive targeted traffic to his e-commerce stores.
Being an online entrepreneur himself, he knows the stress of carrying out thorough research for the right product and how choosing the wrong product can lead a business to failure. With EComHunt, Mordechai wants to help to struggle with online entrepreneurs to start their businesses by selecting the perfect bestselling product.
WORKING OF ECOMHUNT
The next section to discuss in this EComHunt review is the working of this product search tool. Before we get into the details of the working and the features, it is essential to understand precisely what is eComHunt. It is a tool through which e-commerce businesses can find the most popular and profitable products without carrying out thorough research.
You do not have to spend extensive hours in search of a product that can take your business to the highest peaks of success. There is so much that an online entrepreneur has to take care of in order to stabilize their business. When they have to spend so much time on product searches, they cannot manage the other high priority tasks such as the company's finances and employee retention strategies.
EComHunt provides you with a list of products that will work wonders for your online business. You can set up your business on any e-commerce platform. Be it Shopify, Amazon, eBay, or WooCommerce; you can make your business grow exponentially anywhere! Not annually, monthly, or even weekly, this search tool provides a list of bestselling products every day!
Well, this is not it.
The tool gives access to all those sites that are selling the bestselling products. It is an added advantage for you as you can find other trending products from these websites. In short, eComHunt provides you with a rich resource that will help you find the profit-generating products. You will get a chance to take your business to the highest peaks of success without many struggles. If you don't, then eComHunt offers a money-back guarantee! You don't like the results you get your money back within 30 days of purchase!
ECOMHUNT FEATURES
The primary purpose of this product is to provide online entrepreneurs with a list of profit-generating products every day. All these products are handpicked and from experts in the field. The experts who work to create list dedicate their entire time in thoroughly researching the products so that every online business person gets a chance to take their business towards ultimate success.
Here is a list of some amazing features of this product searching tool that have made this tool the top-ranked product for online entrepreneurs.
LISTING OF TRENDING PRODUCTS
For an online business, specifically for drop-shipping business, finding the hottest products on the market is the toughest challenge. It takes extensive research to find a product that can help generate profits. Sometimes even after extensive research, a product found does not provide the desired results. When even after dedicating so much time and effort, an online business owner fails to find the right product, it just strips them off of hope of succeeding, which eventually leads to failure.
The expert team of eComHunt carries out the research for you and lists down the hottest products after spying on successfully running e-commerce stores. They even spy on their social media profiles to analyze the level of customer engagement a product is driving.
With this tool, you are never going to miss out on a hot product as the team is creating and updating a list of the products all around the clock. Along with a list of trending products, this tool offers product analytics. It includes the crucial product details such as source, number of orders, reviews, and ratings of the product, and votes.
In addition to all these amazing features, this tool allows online businesses to calculate the critical number, including Net profit Margin, Gross Profit Margin, and CPA. What more could a digital entrepreneur ask for?
TARGET MARKETING AND FACEBOOK ADS
It does not come as a surprise that the product list you get from eComHunt does not contain any products that are not currently available in the market. EComHunt lets you use this to your advantage. With this tool, you can spy on the Facebook Ads that are already running a campaign for a product you are choosing to sell through your business.
Spying on these ad campaigns can significantly help you with your own ad camping. You can design effective ad campaigns through this feature. You can take inspiration from ads that are assisting the competitors in attracting the target audience and generating increased revenue. You can create effective and better ads on social media, which will help you attract your target audience.
Another amazing feature that is for the new digital nomads is the free campaign video. The free product video will help you create a market for your business while you learn the basics of marketing and business expansion. These free videos prove very beneficial for driving traffic and attracting the target audience.
ACCESS TO COMPETITORS' STORES AND SUPPLIERS
One of the best features for online entrepreneurs using eComHunt is that it provides them access to their competitor's stores and suppliers. You will get the links to the e-commerce stores that selling the in-trend products along with the source.
With this tool, it becomes easy and straightforward to keep track of every move your competitor is making. The strategies of the competitors prove very beneficial for businesses trying to expand their roots. By knowing precisely what your competitors are doing, you will get a chance to get ahead of the game.
Not only do you get a chance to keep an eye on your competitors, but you can get all the drop-shipping information by visiting the supplier's website.
A feature that makes eComHunt a top choice is that most of the products on the list are from AliExpress. You can add the desired product to your e-commerce store through Oberlo by Shopify. Another tool that can help you add the products to your online store includes the Alidropship plugin for WooCommerce.
A TRAINING AND LEARNING PLATFORM
There are hundreds of product search tools that are helping businesses in increasing their profits, but there are very few platforms that are designed to suit the needs of new online entrepreneurs. Not only is the eComHunt a means to grow a business, but it is a perfect place to learn the tricks and tactics to use this tool for growing a business.
It serves as smart assistance and offers useful webinars and tutorials through which a newbie can learn to use this tool effectively. It is the perfect tool to provide a struggling new online entrepreneur with a direction. It helps them streamline their efforts to achieve success in a much shorter time.
The focus of all the tutorials and webinars on this platform are Facebook Ads and efficient ways to drive target traffic to an online store. It provides a step-by-step guide for beginners to excel in their field and gain a firm foot in the market.
ADHUNTER TOOL
Another smart feature that you can enjoy while using this smart platform is its AdHunter tool. Creating ads on Facebook can be very stressful. There are so many factors that an entrepreneur has to consider before they can create an ad that it becomes overwhelming for the majority of them.
Knowing the right keywords and have the perfect tone are the factors that contribute to creating an influential and result-generating Facebook Ad campaign. It is a smart tool for both experienced and beginner online entrepreneurs. The benefits of this tool for the newbies are innumerable.
Being new in the field, it becomes very challenging to create effective advertisements on social media platforms, especially on Facebook. A little guidance and assistance can work wonders for new digital entrepreneurs. The AdHunter tool gives a chance to these young entrepreneurs to monitor the Facebook ad campaigning of the competitors.
The purpose of this feature is not to copy the ad campaigns of the competitors but to help the struggling digital nomads learn the art of creating effective campaigns. Learning from the best in the market provides the new online businessmen with a chance to grow in a way that can help them improve their business.
The correct usage of keywords, tonality, phrases, infographics, and photos gives an idea as to how to create ads that generate results, and profits.
These are the fantastic features that you, as an online entrepreneur, can enjoy using eComHunt. It guarantees fast and quick success for businesses that are struggling to survive in the competitive e-commerce environment. With this platform, you can learn and grow with indirect assistance from your competitors.
ECOMHUNT PRICING AND SUBSCRIPTION
The eComHunt platform is for all types of business. Whether you are running a small-scale drop-shipping business with a low budget or running a full-fledged e-commerce store, this tool is for you. It offers two packages, and you can choose the one that best suits your financial situation.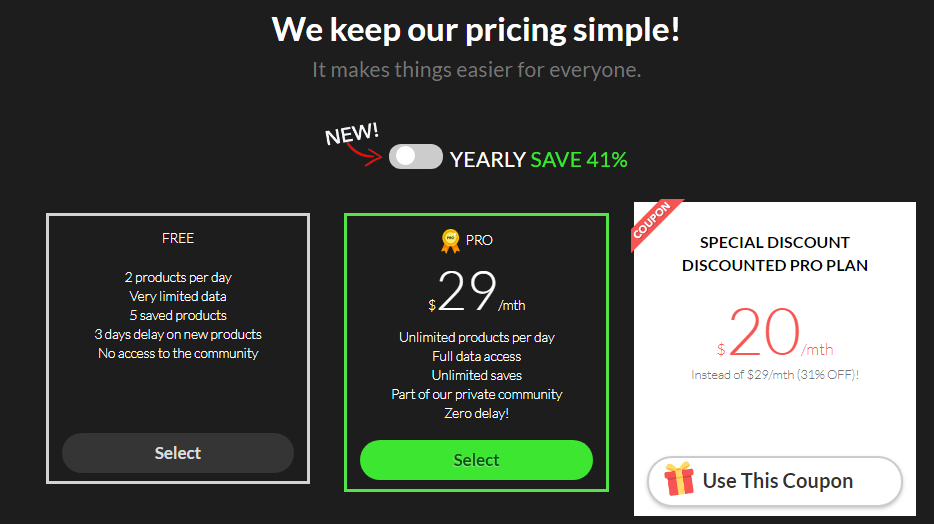 The two packages it offers include the free plan and the pro plan. For the free plan, you do not have to pay any monthly subscription payments. You can enjoy using the service free of cost. With the free plan, you can get access to two products on a daily basis, which is enough for a small-scale business.
The drawback of the eComHunt free trial is that it provides limited details about the product. In short, the free plan will only provide you with the name of the product without any competitor links. Moreover, the new products are not provided immediately; there is a 3-day delay. Not having the competitor link affects your ability to create effective ad campaigns, but this is not always the case.
The second type of package it offers is the pro plan. Under this package, you are required to make fixed monthly payments of $29. What makes the pro plan an exceptional choice is its feature that provides you access to unlimited products every day: not five, not ten, and not even a hundred. With the pro plan of eComHunt, you have access to unlimited products.
The data you get includes the links to the competitor's website, Facebook ad campaigns, and even the link to the suppliers of the competitors. Everything that you need to grow your business is included in the pro plan offered by eComHunt. The best thing about this plan is that the list of products is updated all around the clock, which means there are no delays in receiving the list of new products.
Currently, eComHunt is offering a 31% discount on its pro plan! How amazing is that? At such a low rate, you get access to such treasurable information. Pay just $20 and gain invaluable insights about what your competitor is doing. Stay informed about every step of your competitor while setting up your own thing without stressing about anything.
The spy feature is the highlight of the pro plan. You might not even realize, but by spying on your competition, you can get your hands on some priceless pieces of data. The pro plan will not let you miss anything. It will help you design your ad campaigns better than that of your competitors.
The beginners and newbies in the world of e-commerce and drop-shipping business must definitely opt for the pro plan. It might get a bit challenging to afford, given that you are just starting a business, but the initial investment can make a huge difference. If you are a beginner and are looking for a platform that helps you build your business while teaching you the skills, eComHunt's pro plan is what you need to choose.
By paying as low as $20, you get access to the highly useful webinars and tutorials. The product list will help you sell the most popular products on your online store, and the tutorials will teach you the other essential aspects of growing and turning your business into a phenomenal success. You will get to learn the secret behind creating effective Facebook Ads. Not only has this, but the tutorials offered here also helped an entrepreneur develop skills to attract the right audience to their store at the right time.
ECOMHUNT PROS
There are numerous product search tools that you can find on the market, but only a few offer the features that eComHunt is offering to the digital entrepreneurs. Here is a list of the pros of using this smart platform to search for top-selling products.
FACEBOOK AD INSIGHT
The Facebook Ad insight is a remarkable feature that this product searching tool is offering today. None of the other tools provide this kind of smart assistance. The ad insight feature services two purposes, the first to teach the newbies the right way to create campaigns and the second purpose to allow the online businessmen a chance to monitor the strategies of the competitors.
The ad insight helps digital nomads identify the target audience, use the right keywords and phrases, and set up an effective tonality. It provides a chance for e-commerce stores to learn from the people who have the skills and brains to create content that attracts the right audience.
LIST OF THE HOTTEST PRODUCTS
The best thing about using eComHunt for your product search is that it will provide you with the hottest ones even before they go viral, and every online store begins to stock it. It updates the list with new products with zero delays. The team of experts at eComHunt ensures that its users get access to the list of about-to-get popular products before anyone else so that they can get ahead of their game.
NICHE PRODUCTS
Another advantage of using eComHunt is that it can provide you a list of niche-specific products. It does find the best products from all the niche. Still, businesses operating in specific sectors can enjoy a list of products related to their niche, which is a really beneficial feature. You do not have to search for the products of your niche from the long list, as this tool provides you with a niche-specific list.
Take your digital business to the highest peaks of success and gain an edge over your competition by choosing eComHunt as your partner.
ECOMHUNT CONS
Even though eComHunt is a very useful tool for struggling digital businesses, there are some negative aspects that we will highlight in this eComHunt review.
FREE MEMBERSHIP IS NOT USEFUL
The free plan might seem very impressive to small-scale businesses. It might seem great at first, but when you use it, you begin to realize that the tool is not offering anything outstanding. The free plan has only limited options and services which do not bring much to the table. Everything great and all the fantastic features are only accessible in the pro plan, which costs $29 per month.
LIMITED PRODUCTS
A lot of people begin to use the service and the pro plan because of its promise of providing a list of many products. In reality, the products, even in the pro plan, are limited; you have to change the limit in order to get more products.
THE FINAL THOUGHTS
All digital entrepreneurs will agree to the fact that choosing a profitable product is the most challenging part of setting up and running a business. It takes a great deal of monetary as well as non-monetary efforts to find a product that has the potential to drive incredible results.
Hours of extensive research can go into drain even if the smallest factor is misinterpreted. It can put a business in a state of loss, coming out, which can become impossible. The search for the product is by far the most significant aspect of an online store. In order to stay in the game, you need a product that the consumers actually need.
d1Unable to carry out research or failure to analyze the strategies of competitors can lead to a disaster for any online business, regardless of how large or small it is.
If you want to get ahead of the competition and enjoy the perks of being at the top, you need to incorporate eComHunt into your strategy. It handles the toughest part of your business and lets you relax. You do not have to spend long hours in front of the screen and neglect the other essential tasks of your business.
EComHunt is an efficient solution that saves your time and efforts, providing you with everything that you need to become a well-reputed and exceptionally successful entrepreneur. You can enjoy the benefits only when you choose the Pro Plan.
The free plan is not very useful and does not let you use any of its smart features. You get access to the real treasure when you pay $29 per month for this fantastic tool. The tool promises its users immediate results. With its list of the hottest products, you will be able to take your business toward success.
If, due to unfortunate circumstances, you are unable to take your business towards stability and things do not work out for you, eComHunt offers a money-back guarantee. If even after 30 days use you do not see any changes in your revenue and profits, you can get your money back without any stress or worries.
Try this smart tool and give yourself a chance to become a well-reputed digital entrepreneur.