​AliDropship is an awesome plugin that converts your WordPress website into a drop shipping store, which works through an online retailer, AliExpress.com.
Uncertain about what drop shipping is?
Drop shipping is an e-commerce business, which you can kick-start with a minimum investment. In this kind of business, you do not need a warehouse to store your goods, nor do you have to worry about shipping the goods and services to the customers.
"Wh.. what? I am shaking my head here! What's with this business?"
Breathe in and relax, friend!
Drop shipping business is a type of venture where you tie up with the manufacturer and exhibit his products on your website. Once you get an order, you send him the details and they carry out the delivery process.
In short, you do not have to store the products; neither do you have to deliver them. This business is so easy, isn't it?
​Now, let's go on to discuss my favorite tool, the AliDropship custom store!!!
​WHAT IS ALIDROPSHIP CUSTOM STORE?
AliDropship has two products to sell, one is the plugin and another is the drop shipping custom store.
You can go for the AliDropship plugin if you are well-versed with using WordPress and technical know-how.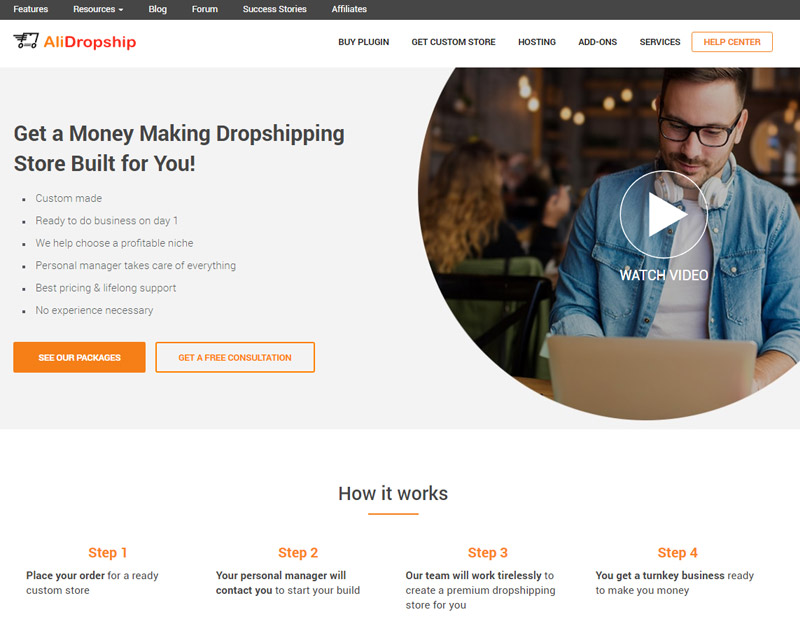 AliDropship Custom Store, on the other hand, takes care of all the technicalities required to start a drop shipping business. The services provided by the AliDropship custom store include niche research, domain name registration, Google Analytics integration, etc.
​Let's have a look at some features provided in the AliDropship custom store:
Niche Research: AliDropship does thorough research on what kind of products are in high-demand to make sure that your business sustains for a long period.
Domain Name Registration: When you buy the AliDropship custom store, they take care of providing a search engine-friendly domain name that will also suit your business type.
Custom Design: They ensure that you get a unique design for your business with a custom logos, icons, header images, favicon, banners, etc.
Responsive Website: A responsive website is a web designing approach where you craft the website in a way that people can navigate through the web page by using any device without the need of resizing the page. So, AliDropship creates a website that can be accessed through any device!
Up To 12% AliExpress Cashback: You can get up to 12% cashback with every purchase at AliExpress.
Google Analytics Integration: Their service is integrated with Google Analytics, which helps you stay informed about the number of visitors, their behavior, their sources, conversion, etc.
WP Drop Ship Plugin: This feature allows you to search, update and import the products from AliExpress to your website.
Payment Gateway: This custom store supports widely used payment processors like PayU, PayPal, 2Checkout, and Stripe.
On-Site SEO: AliDropship runs an on-site SEO process to increase your website's visibility in the organic search results and bring targeted buyers to your site.
Promo Video (Available in the Ultimate Package): These guys have in-built promo videos, which can help you promote your business by informing your target customers about the advantages of your products and services.
Social Media Promo Tool (Available in the Ultimate Package): This feature automatically posts your products on the top 4 social media websites to promote your web store.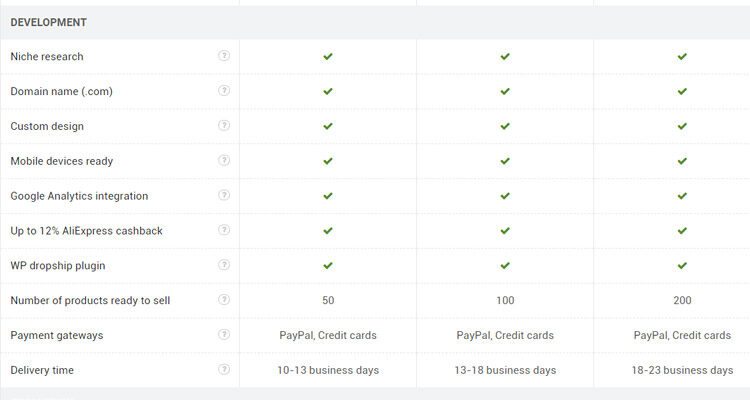 Well, the number of features imported to your website depends on the package you choose. There are 3 packages available at AliDropship:
Basic Package with 50 features
Advanced package with 100 features
​Ultimate package with 200 features
​HOW DOES ALIDROPSHIP CUSTOM STORE SAVE YOUR TIME?
AliDropship Custom Store is basically a complete package of services required to run an online business. It helps you right from the scratch and makes sure that your business creates a significant place in the market.
This is the best for a person who is not skilled with technology. In fact, I will recommend this to the techie geeks too, as this saves a lot of time for you.
​If you buy their package, instead of spending more time on the technical aspects, you can invest your time in marketing your business, because AliDropship will take care of the niche research, domain name registration, and other technical operations.
​IS IT WORTH IT?
Well, if you are considering the price, the cost of this custom store is totally worth it when you compare it to the number of features they provide. AliDropship not only converts your WordPress website into a drop shipping store but also makes your business operations easy.
With Google Analytics integration and on-site SEO, it increases the chances of sustaining your business for a long period.
​So, go ahead and set up a perfect online store with AliDropship!!!