When we say online shopping, we say Amazon.
The incredible multi-billion company is any seller's destination when it comes to ease of use and reachability, as it has over 310 million active customers according to Statista. Even though Amazon is optimized for buyers, it offers many services for sellers as well, including the famous Merch by Amazon.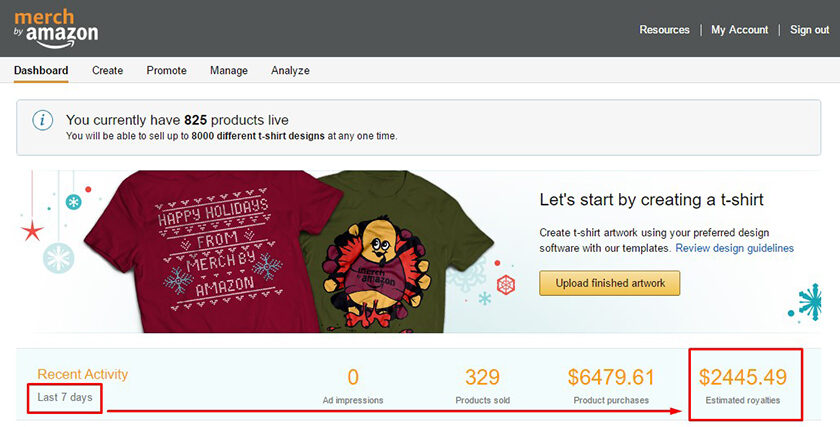 Merch by Amazon, or Amazon Merch as I like to call it, is a platform on which you can sell your own branded designs on different types of clothes, such as T-Shirts and Hoodies, without the need for a personal inventory. You provide the designs, you bring the sellers, and Amazon does the rest for you, including the shipping process. That makes it the best option for many people with design skills but without a huge initial investment for inventory and printing, let alone the hustle of finding reliable providers and workers.

But is Merch for Amazon enough? Not really. You still have to manage your advertising campaigns to bring customers, and most importantly, you need to find the best products to sell. Trends change every day and as sellers, we need to adapt. There are many tools to help with that, but the one I really like is Merch Informer.
Merch informer has many features, from finding related keywords to analyzing your competition, it's an All-In-One solution for all your research needs. Merch Informer uses Amazon API to get you all the data you need, from the comfort of one single browser tab. In this article, I'm going to go through the best features, and I hope you find this review useful.
Pros

 

·         User Friendly

·         Reasonable prices

·         Many features

·         Frequent updates

Cons

 

I couldn't find any
WHAT IS MERCH INFORMER?
Merch Informer is an online tool created by two successful Entrepreneurs and Merch sellers, Neil L and Todor K, who started on Merch since its creation and have been making impressive revenues ever since. You can read their success story on Reddit, as it's one of the most viewed posts there.
They created this tool to facilitate the product research phase for sellers. It has many features that'll make you forget the nightmare of finding and organizing keywords yourself, as it gets all the necessary niche-related data you need, all for a reasonable price that starts at $9.99 per month.
What makes this tool special is the fact that it was created by Merch sellers, by people who know the struggle we go through to find products that sell, so it's basically your shortcut to being as successful as they are in your Merch venture.
IS MERCH INFORMER EASY TO USE?
Merch Informer has a clean user interface. You can access everything from the side menu. It's the definition of a user-friendly software. Can it get any easier than this?
HOW TO SIGN UP?
Just use the Signup button on the homepage. The process is pretty easy, and it only requires a valid name and email address, as well as your credit card info for billing. 
WHAT CAN YOU DO WITH MERCH INFORMER? 
Merch's advanced software utility offers many features. The ones I find really useful are:
KEYWORD FINDER 
Have you ever been sitting there squeezing your mind to find long tail keywords to enhance your rankings but nothing came up? Merch Informer is the solution! Type any keyword you want in the search box of the Keyword finder module, and Merch Informer will find all the autocomplete phrases containing your keyword, allowing you to find huge amounts of long-tail keywords and ideas.
That can really help as you'll know what buyers see when they type in your keyword so you can decide on what you should focus on while making your design and listing. Those are the most searched terms, therefore they're really important.
Not only that, but the tool also displays the Search Volume, the Cost Per Click, and the competition level for each keyword on the list.
Here's an example of the keyword "sushi"
PRODUCT SEARCH
Before discovering Merch Informer, analyzing the different products in my niche was a real pain in the neck. Typing the keyword then opening many tabs and struggling with Chrome's RAM consumption was a nightmare.
With Merch Informer it's as easy as falling off a log. You just insert your keyword in the search box and wait a few seconds to get a list containing the top 100 products related to that keyword, along with their relevant data including a summary that shows the ASIN, Price, BSR and estimated monthly sales, as well as the features, description, and reviews. You can even choose whether you want Merch by Amazon products or Amazon.com products.
If you're tired of lurking around Amazon and collecting every product's data in your spreadsheet, you should definitely check this tool.
Here's a glance at what you get when you type the word "sushi" in the Product Search module: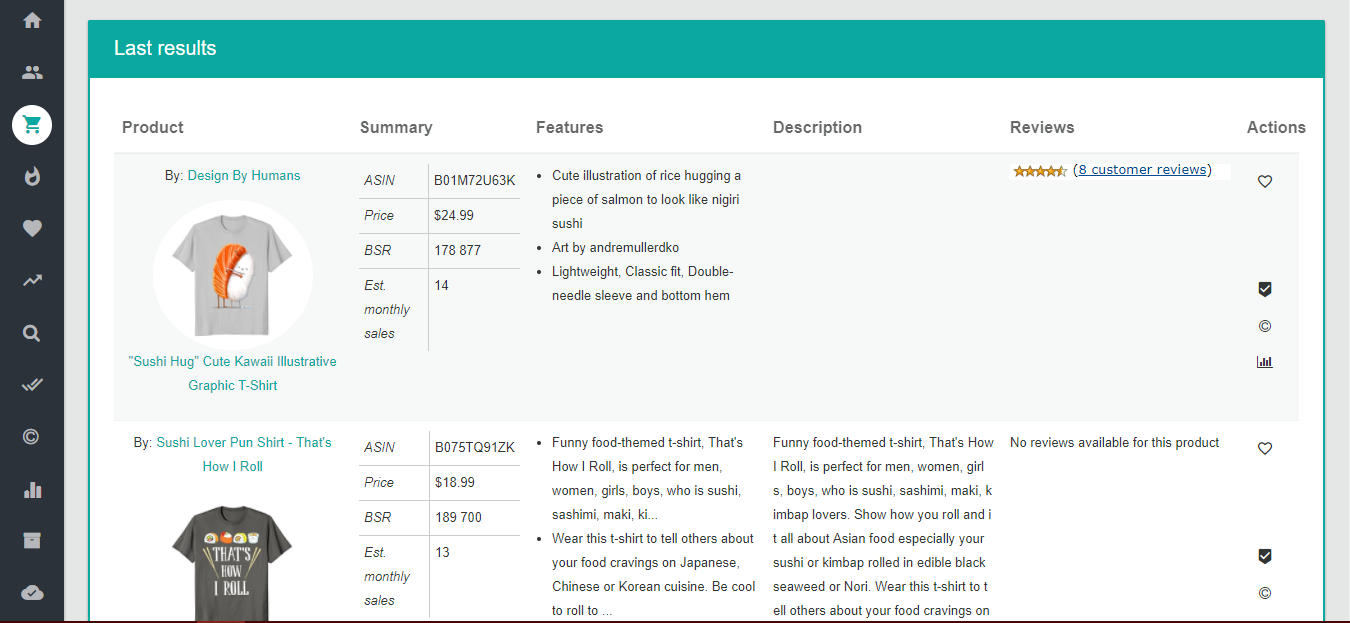 ADVANCED COMPETITION CHECKER
Advanced Competition checker is yet another feature I really like. This module will give you an idea of what's the competition like for your keyword. In other words, how hard it is to reach the first page of Amazon for that specific keyword.
Advanced Competition checker assembles several types of data to give you a final score of A to F, with A presenting low competition and F a high one.
The keyword "sushi" took an F score, which is understandable, considering how broad the term is, while the keyword "sushi samurai" returned an A score, due to the fact that it's a low competitive word. That being said, don't take this example as an indicator that finding keywords with an A score is easy, as the term I've used has a really small search volume.
IS THAT ALL?
Merch Informer offers many other features, such as:
Merchant Search, that allows you to check the shirts of a specific brand and analyze their data;
Favorites, that stores your preferred shirt designs so you can check them later;
Trademark Alerts, which gives you a heads up if a phrase you used in your design gets trademarked, as that can get your account banned. Amazon takes copyright claims very seriously.
Along with those, Merch Informer provides other premium features that require an upgraded subscription, like Merch Hunter and Merch Tracker.
MERCH INFORMER PRICING
Merch Informer offers reasonable prices. Their plans start at $9.99 for the Newbie package to reach $59.99 for the Pro one.
If you're still unsure about this, you can go ahead and sign up for the 3-day free trial. Keep in mind that the trial requires a valid credit card. They won't charge anything before the end of the 3-day period and you can cancel anytime. Besides, the website is protected with an SSL encryption, so your personal information are safe with them.
DOES THE MERCH INFORMER GET ANY UPDATES?
Merch Informer gets frequent updates. As mentioned above, this tool was made by Merch sellers, so whenever they discover something new and useful, they add it as soon as possible.
VERDICT
Starting a Merch By Amazon venture isn't as easy as it looks. It requires hard work and dedication. When I first started my journey, everything seemed complicated and I was about to quit. Researching was a daunting task. Thankfully, I found some tools that made the process easier, including Merch Informer, which was a game changer for me with its rich set of features.
Go ahead and start your free trial, I'm sure you won't regret it.
If you have any question regarding the tool just ask in the comments. I'll try to answer as much as I can.
If you have a previous experience with Merch Informer do share it with us as we're eager to hear it.