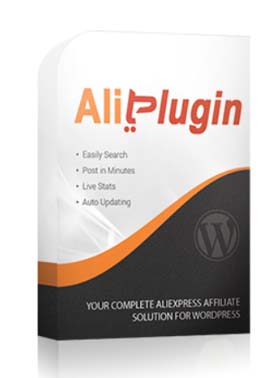 The AliPlugin is one of the most widely used AliExpress affiliate plugin. The users rely on it to develop an eCommerce site without wasting a lot of time. This plugin is quite essential when it comes to importing products directly from AliExpress. All you need a WordPress eCommerce store and a desire to establish an online business. You can import any number of products with just one click. Yes, it is for the AliExpress affiliates who are planning to establish a low-cost online business and endorse all the required products in the chosen niche. Let's explore why this particular plugin is beneficial for AliExpress affiliates in this Aliplugin Review.

WHAT EXACTLY ALIPLUGIN IS?
Just like other WordPress plugins, the AliExpress plugin is also a tool used to include features to affiliate WordPress websites. It enables required customizations to the eCommerce stores that in turn help the affiliates in endorsing and selling AliExpress products effortlessly. What makes this plugin very useful for the AliExpress affiliates is its ability to create an eCommerce site or sites that look and feel like AliExpress.com. It means you can use this tool to create your own version of AliExpress.com without investing an expensive amount.
Your e-retail store will appear more authentic and reliable if you apply this plugin. You do not need to try anything extra to lure your users, just import the products or new deals on a daily basis, and you are done. Your targeted audience will get new deals on a daily basis and most of them would also like to buy the products available at your store. So, every sale will generate a huge commission for you. You will create an additional income stream that will help you in growing your business fast. Continue reading this Aliplugin Review and you will reveal some very interesting facts about this tool.
WHY ALIPLUGIN IS ESSENTIAL FOR EVERY ALIEXPRESS AFFILIATE?
This plugin was developed by Vitaly Kunin and launched by Ali Partnership Company. It has brought some necessary changes in affiliate marketing that were required to resolve the issues regarding AliExpress partnership program. This plugin helped many new people to join the AliExpress affiliate marketing program and start a new business, which was very difficult before the introduction of this plugin.
AliExpresses.com is operated by Alibaba Group. This e-retail company serves more customers than Amazon and eBay combined. Alibaba alone had gained around $248 billion in 2013 and that's how it had become a worldwide sensation at that time. Such huge revenue generated by the Alibaba group lured numerous new entrepreneurs from all around the globe. People are still seeking to be the AliExpress partner and sell products to gain a huge commission. Most of them have chosen the AliPlugin to create an e-retail store and make it a huge success.
Every AliExpress affiliate has the potential of earning huge money by making regular sales. AliExpress offers an 8% commission on every product you sell. These products should be visible on your site with all their images and details. That's where the AliPlugin plays an important role by importing the chosen products from AliExpress.com and endorsing them at your eCommerce site.
ALIPLUGIN FEATURES:
This plugin was primarily designed to help AliExpress affiliates in developing an online AliExpress affiliate store on the WordPress platform. It works exceptionally well and allows you to include numerous products sold by AliExpress in your store. Your customers will feel like all the given products belong to your e-retail store. The customers will click on the product links and the plugin will redirect them to AliExpress.com.
You will work as an affiliate through the AliPlugin enabled website and it is AliExpress that will be the in-charge of selling and shipping the product. It will be AliExpress that will ensure satisfying customer service and you will gain the commission as the redirected customer will make the sale. It will take only a few minutes to install the Aliplugin. Once this plugin is installed, you can customize and configure it. This plugin will first ask you to provide the Aliplugin license key and then you can continue developing the affiliate store on WordPress.
Some key features of this plugin include the following:
Attractive WordPress themes:
The Aliplugin offers access to a number of high-quality WordPress themes. You can choose any theme to develop a platform as authentic and professional as AliExpress.com. Though the quality of the website will be similar to the AliExpress website, you can still provide a personalized look to your website so that it can look unique and attractive.
There is a broad range of categories and products on the source website to choose from. You can choose any specific category for the products while creating the website with Aliplugin. The WordPress themes offered by this plugin can enhance the visual appeal of your store, whether you are selling technical products or beauty products. You can get instant support from the developers if you face any difficulty while creating the store.
Quick incorporation of products and integrated translator:
Choosing and importing several products may seem like a daunting task, but it will become quite easy with AliPlugin. You can import thousands of AliExpress products to your affiliate store within a few minutes. Aliplugin's integrated translator will allow you to connect and communicate with an international audience. It will be quite simple for you to convey your message in the local language of the targeted region. That's how this plugin can help you in targeting and attracting customers who reside in foreign countries.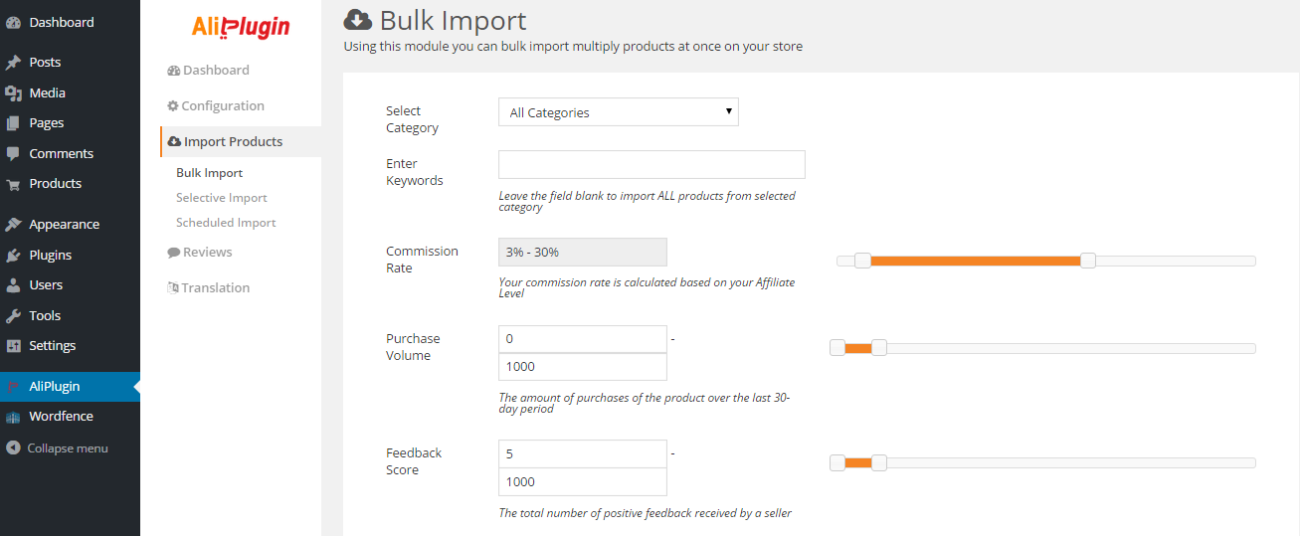 You don't need to worry about the new updates released for AliPlugin because it will update automatically. This plugin is not only responsible for updating itself, but also for updating the product information, images, price details, and product offers. It means, the plugin will manage the selected products in your store's product list and all you need to worry about is finding the customers. You can focus on promotions, draw the customers, and lead them to make a purchase at AliExpress.com.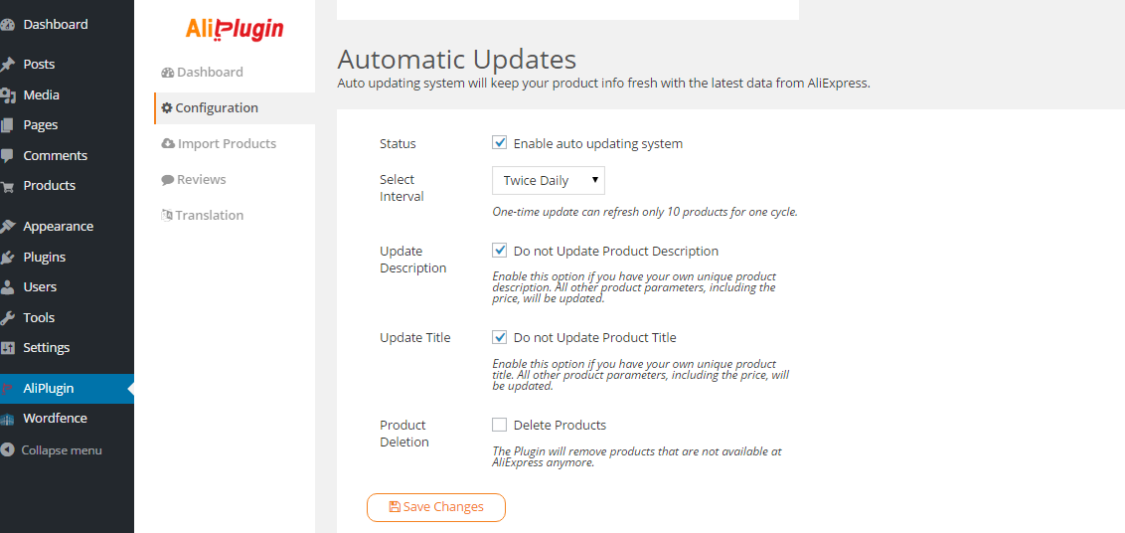 Inventory management with the AliExpress plugin becomes a very easy task. It generates and shares real-time reports that contain details about how many products are available at your store and how many of them you have sold to date. You will know which products are gaining the most attention from the buyers. It can also help you to analyze the reports to understand how the selected products are gaining more popularity than other products. You can apply the same marketing tactics to sell the other products.
This plugin updates quite frequently to provide you with the most recent version of the software. That's how you get all the latest features of the plugin which help you in customizing your affiliate store with all the latest features.
This plugin is SEO optimized:
You might be wondering what!! Yes, it is true that the AliPlugin is SEO optimized. The developers have created it specifically for WordPress. It will be responsive and therefore your website will take shape with respect to the device your targeted customers are using. The right SEO strategies can bring your affiliate store at the top in the search results. The Aliplugin will ensure that your customers will get the best shopping experience. You can take your business on autopilot mode and let the plugin offer your customers with exceptional service.
PROS AND CONS OF ALIPLUGIN :
When it comes to choosing a WordPress plugin to create an affiliate website, you should focus on both good and bad things. Though AliPlugin is one of the most feature-rich plugins for AliExpress affiliate sites, it still has some drawbacks. We have shared both good and bad features to help you in making a wise decision.
Helps you in developing a new store from the scratch:
It does not matter whether you have good experience in developing a WordPress e-retail store or not. The Aliplugin will make it a fairly simple task for you. It will take only a few minutes and there will be a site that you can use to sell AliExpress products to the targeted audience. You do not need an expert developer to create an eye-catching eCommerce site. Therefore, this plugin is quite beneficial when it comes to starting an online affiliate marketing business with minimal investment.
A huge range of WordPress themes:
AliExpress provides a huge range of products in many different categories. It is obvious that you would not like to endorse all those products in all those different categories. You would like to sell products from a specific category like tech, household, beauty, etc. A few options in WordPress themes cannot be suitable for all the categories; therefore AliPlugin comes with a complete range of WordPress themes. You can choose a theme that suits the best to your product category and then apply it to make your store look more attractive and professional. Other features like 30-Day cookies and there are no geographical limits. So, it is actually the best WordPress plugin for an AliExpress affiliate program.
When it comes to targeting buyers online, you cannot dream to gain a huge number of customers by having a static website. It should be responsive and attractive. New AliExpress affiliates from a non-technical background will find it very tough to create such a responsive website. Therefore, the AliPlugin helps you in developing a responsive site that can change the shape with respect to the device the customers are using to access your AliExpress affiliate store.
The AliPlugin-enabled sites are very user-friendly. Your customers will not face any issue in operating your eCommerce store and they will be able to search and buy the required products very quickly.
Cons:
There are only a few drawbacks of the AliPlugin that make it a bad choice. Those drawbacks are as follows:
There are not sufficient tools to create an impeccable eCommerce site.
Some affiliates have reported regarding the troubles while they are downloading the product information from AliExpress.com.
The niche based price conditions are missing.
No coupons and discount codes.

CONCLUSION:
Though there are some flaws as mentioned in this AliPlugin review, the Aliexpress Affiliate WordPress plugin is not a perfect program. It is actually a very beneficial program for those who are starting an affiliate marketing business for the first time. This plugin can make your dream come true if you have decided to make your future in affiliate marketing. It is an affordable tool that will lead you towards the creation of an attractive eCommerce store. You can import a lot of products from AliExpress.com, promote them on your site, and encourage the targeted customers to make the sale. Once the sale is made, you will gain some commission and start earning online.